Princes William and Harry held a private ceremony at The sunken Garden, Kensington for the
unveiling of their mother, A statue.
It would've been their mother's 60th birthday and this is a perfect tribute to the lifelong work Diana contributed as a patron.
I watched the live performance with great intent waiting to
see what they said as they made their appearance into the sunken garden.
The wait seemed like forever I thought they were never going to show.
As they rounded the wall and down the four steps, both of them were smiling and clapped their hands together.

William – Oh my.
Harry – This is spectacular.
They glanced ahead and spotted their family and friends
Both of them approached their aunts and greeted them both with a kiss on either cheek
Lady Sarah McCorquodale  says to Prince Harry "Is this how you kiss"? 
Harry affectionately demonstrates to her how it is done.
of which the responds with "oh"

A brief chat with their aunts and moving onto their uncle, Diana's brother Spencer,
William taking the lead whilst Harry continues to chat to his aunts.
The Earl of Spencer greets his nephew with a firm handshake and a nod and says;
"Its lovely to see you"
He went on to say that "whilst we did it, it was very hard"
Moving to the side of William he goes on to say "it was important we did this for her 60th, yes, yes".
William continues to talk to his uncle Spencer with his back to the camera and his uncle
replies with,
"It needed doing, It's exactly what we need. it's definitely what we needed."

William and harry stop off to chat with Ian Rank-Broadley, The artist who created the statue.
the three of them shook hands and began to talk about the creation and dedication of such a project.
Ian Rank-Broadley went on to say:
"As I said, I wanted it different, after all that, we pulled it together, I mean it could've gone either way."
"yes I love it"
"Oh actually I just wanted to say to you guys, if you just stand either side of the statue, we will pass the unveiling rope for you to pull".
"Its been such an interest for so long, its going to make such a difference"
"The Statue is in the heart of the garden"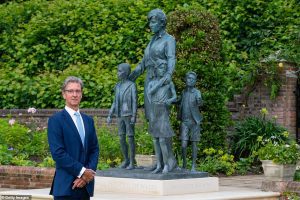 Before the unveiling commences William and Harry make their way towards the veiled statue.
Harry reassures William that when they pull it, it will slide over and drop.
He goes on to say "we will be okay"
William lets Harry know that he doesn't want anything to wrong, and that the unveiling has to be done right.

The aide, guides William and Harry to stand in the correct place on the step, he hands them each the rope, William asks, (demonstrating) "Do we pull it like this?"
Harry Jokingly replies "lets just yank it!"
Walking off he says "Unveil the statue when you are ready?"
Together they gently pull the veil down revealing the statue, they laughed and appeared to be in happy with the result
Harry announced- "we did it!" with great pride.